"When designed properly, artificial intelligence can be an effective way to remove bias," Forest explains.
"When you have a technology that is completely agnostic to gender, for example, it is not just recognising the whole of the individual and their skill sets, it is helping to sift, to sort and to recommend."
One of the areas where modern technology can help is by creating an engaging user experience that attracts diverse candidates earlier in the hiring process.
LiveHire research shows that diverse candidates need to be reached at the beginning of the talent pipeline to help achieve better diversity within an organisation.
Evidence suggests that many companies have effective programs in place to reduce bias during the hiring process, but it's vital that companies also invest in talent attraction and engagement strategies to ensure their "pipelines" are filled with diverse talent.
Japanese multinational Komatsu, which has engaged LiveHire as part of its recruitment diversity strategy, expanded its diversity and inclusion efforts with their Say Again? campaign which it launched in 2019.
"Komatsu is deeply committed to encouraging the employment of a diverse workforce into our organisation," says recruitment manager Anna Statham.
"Our managing director champions initiatives such as the EveryONE counts strategy and advocates for greater inclusivity in our workforce to foster innovation and give our organisation a competitive advantage through diversity of thought.
"We're thrilled to see that LiveHire also plays a key role in this strategy – enabling Komatsu to increase our percentage of female hires by over 30 percent with a more proactive, candidate-centric approach to recruitment," she says.
"The way that LiveHire approaches this," says Forest, "is to provide an engaging way for candidates to express overall interest in a company and move much of the recruitment process to mobile communication via two-way texting."
Many candidates may not have regular access to technology such as computers or printers, but a 2019 study by Deloitte found that 89 per cent of Australians own a smartphone.
By addressing the issue of accessibility and opening channels of communication, candidates from diverse backgrounds are not being discouraged from applying.
"Texting is just very much how we all operate these days. As one of our founders said: 'I text with my CEO and I text with my mother'," she says. "It's much more humanising than getting a standard email response to your application.
"To compete for the best talent, it's increasingly important to deliver a world-class candidate experience and attract and engage candidates early in the recruitment process," Forest says.
One example that highlights the importance of addressing diversity, equity and inclusion from the beginning of the candidate pipeline can be seen in a Forbes study on gender diversity.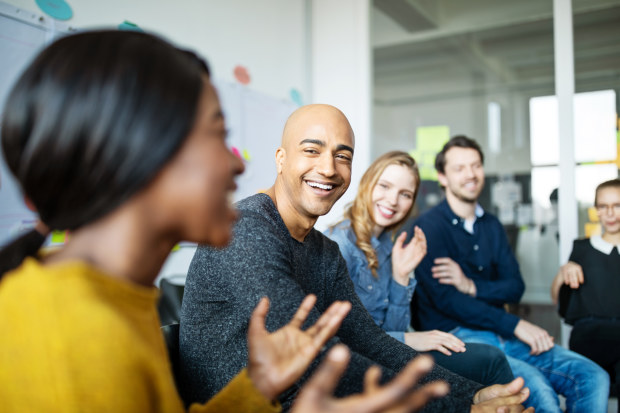 It found that men will apply for a role if they meet at least 60 per cent of the desired job qualifications – but women will only apply if they meet 100 per cent of them.
Recent studies reveal staggering differences between those companies that actively engage diversity strategies against those that do not.
According to a recent McKinsey & Co study – Diversity Wins: How Inclusion Matters – 32 per cent of companies reported better performance, 87 per cent testified to better decision-making and 40 per cent had improved revenues from pursuing diversity goals.
Lisa Annese, CEO, Diversity Council Australia, says that diversity is only one part of the equation; inclusion also needs to be at the heart of any successful diversity program.
"Employers are increasingly becoming aware that diversity and inclusion make good business sense because they deliver a range of positive organisational, team and individual outcomes," she says.
"But diversity on its own is not enough. Workplaces must be inclusive to deliver the benefits that diversity has to offer.
"We also know that employees want to work in environments that are inclusive. In fact, our research shows that three in four Australians support diversity and inclusion.
And, says Annese, technology is the way of the future when it comes to removing speed humps on the road to diversity.
"Technology can play an important role in addressing unconscious biases, but it has to be designed with inclusion in mind. DCA is currently partnering on research to understand more about AI and inclusion."
To access LiveHire's full Diversity, Equity & Inclusion Hiring Playbook, please visit https://www.livehire.com/resources/diversity-equity-inclusion-hiring-playbook/ or contact the LiveHire team at hello@livehire.com.